Dylan Bailey, more commonly known as BananaPieLord is the main character of the series.
He is seen in every episode in some way. His series include Minecraft,The Sims 3, Animal Crossing, and most recently, Spore.
Information
Edit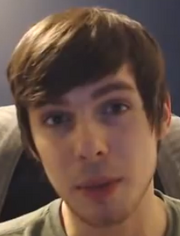 Basic
                                                                                    Name: Dylan
                                                                                    Gender: Male
                                                                                    Age: 20's  
                                                                                    Relationships
                                                                                    Friends: Tyler, His Creations            
                                                                                    (Excluding Texty Jesus,) Texty BPL,
                                                                                    Jane March BPL, Texty  (On rare  
                                                                                    occasions.)
                                                                                    Enemies: Texty Jesus,
                                                                                    Premade Sims, Texty (Most of the
                                                                                    time.)
Ad blocker interference detected!
Wikia is a free-to-use site that makes money from advertising. We have a modified experience for viewers using ad blockers

Wikia is not accessible if you've made further modifications. Remove the custom ad blocker rule(s) and the page will load as expected.